Node Box 1000
Ultimate Master Node System for various Blockchain Projects
Ships Worldwide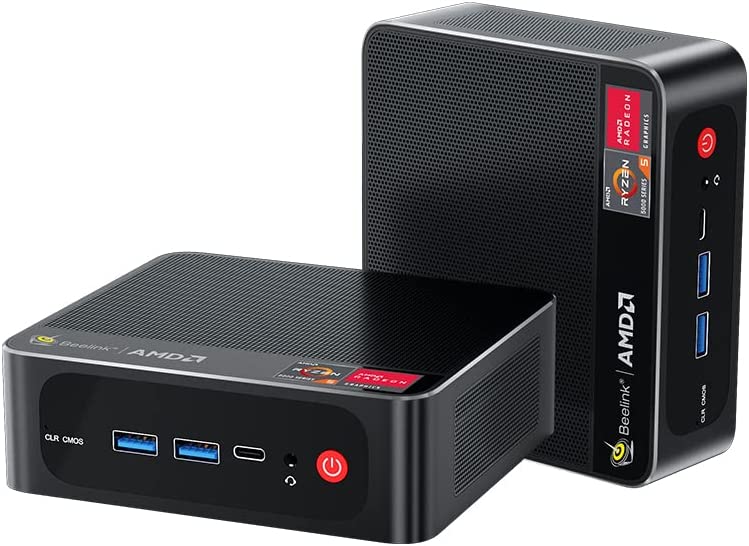 Run multiple node projects simultaneously on a single hardware.

Support Decentralization!
Description:
Node Box 1000 comes preconfigured with specialty software for you to start participating in any blockchain project of your preference. All that on a single pane of glass monitoring and management software at 30 to 40 watts average power consumption! Depending on the node compute requirements, you can anticipate to run between 4 to 30+ nodes.
All systems are heavily customized to exceed their rated performance to maximize the investment (CAPEX) by lowering the cost per system/node.
Monitoring and management is provided by Proxmox® Software. Proxmox VE is a complete open-source platform for enterprise virtualization and Enthusiasts. With the built-in web interface you can easily manage VMs and containers, software-defined storage and networking, high-availability clustering, and multiple out-of-the-box tools on a single solution. Proxmox® is a registered trademark owned by Proxmox Server Solutions GmbH. Please see https://www.proxmox.com/en/about for more details.
Hardware (base Included) :
AMD Ryzen 7 5800H 3.3Ghz-4.4Ghz; L3 cache 16Mb
32GB (16 x 2) DDR4 SO-DIMM 3200Mhz
500GB M.2 NVMe SSD
USB 3.2×3; USB2.0 x 1; HDMI x 2; Type-C(PD Chrage) x 1; RJ45 Gigabit Ethernet 1000MBps/S x 1;
Upgradable:
The more nodes you run the compute requirements increase for memory and storage. Even though most master nodes systems are light weight you can be assured that Node Box 1000 can scale easily with the demand.
Supports up to 64GB RAM
Fits both 2.5Inch SATA and M.2 Drives up to 8TB of Storage
Dimension and Weight:
126mm (W) x 126mm (L) x 42mm (H) @ 455g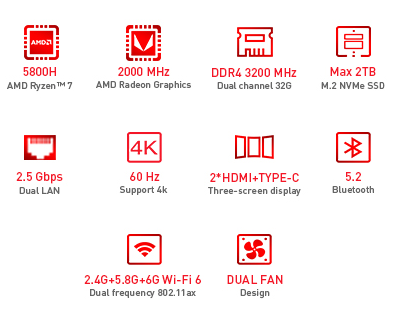 Included:
Node Box 1000 (w/ power adapter, user manual, hdmi cable, etc)
Manufacture Warranty with Lifetime technical support from BMO
As Build Documentation (Serial Numbers, Configuration Settings, System Profiles, Benchmarks Analysis, Power Consumption and more)
Operational Guide
Training of the System and overview via Zoom included
Nodes Caveats and Limitations:
Depending on the blockchain project, there might be some limitations or caveats that a node operator needs to be aware of. For example, some projects allow only a single node per Public IP address. Additionally, there are projects that can't be combined together due to overlap on port level i.e Flux and Pre cannot be hosted under the same public IP at the moment. A majority of the projects don't have issues being combined.
Nodes Pair Examples:
Unlimited possibilities on how you can pair different blockchain projects. Below you can find just a few examples. If you have an interesting project and not sure of compatibility please reach out to us to verify.
FLUX + Streamr + NEOXA
NKN + Presearch + Streamr + Ravencoin + BTC
Firo + NKN + NEOXA + Equilibria
ETH + BTC + FLUX
EXODUS + NEOXA + Equilibria + FIRO + Sreamr
FLUX Multi Node
Price, Processing Time and Payment
Price: $715 (base) + Shipping
Processing: 7-10 Business Days
Method of Payments
Crypto (preferred – contact for info), Wire Transfers, Fiat (Debit/Credit)
Proudly Assembled and Shipped from USA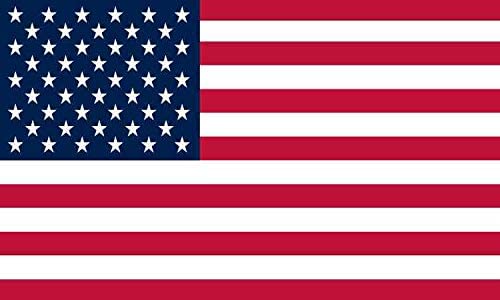 Suggested Blockchain Projects (but not limited to):
Ethereum Node – Solo staking on Ethereum is the gold standard for staking. It provides full participation rewards, improves the decentralization of the network, and never requires trusting anyone else with your funds. Those considering solo staking should have at least 32 ETH and a dedicated computer connected to the internet ~24/7. Some technical know-how is helpful, but easy-to-use tools now exist to help simplify this process.
BTC Node – A full node is a program that fully validates transactions and blocks. Almost all full nodes also help the network by accepting transactions and blocks from other full nodes, validating those transactions and blocks, and then relaying them to further full nodes.
RVN Node – It takes advantage of the Proof-of-Work (PoW) consensus mechanism and a unique implementation of it known as KAPOW, which means that it can be used for a variety of different purposes, such as providing a digital representation of real-world assets as well as facilitating non-fungible tokens (NFTs).
Flux Node – FluxOS is powered by FluxNode infrastructure run by individual Flux holders. FluxNodes are geographically-spaced all over the world, so developers can be assured that their apps are accessible by users at all times and locations
PRE Node – Presearch Node software can be installed by anyone on their computer or excess server capacity to help power the new Presearch decentralized search engine. By running node software, operators help crawl the web for the information needed to answer user search queries.
Streamr Node – The Streamr Network is a peer-to-peer network for publishing and subscribing to data in real-time. Applications use it for decentralized messaging, for example sharing data across applications or broadcasting information to large audiences. The decentralized nature of the system makes the data transport scalable, robust, secure, tamper proof, and censorship resistant.
NKN Node – NKN (New Kind of Network) is a new generation of highly scalable, self-evolving and self-incentivized blockchain network infrastructure. NKN addresses the network decentralization and self-evolution by introducing Cellular Automata (CA) methodology for both dynamism and efficiency. NKN tokenizes network connectivity and data transmission capacity by a novel and useful Proof of Work.
Firo Node – Masternodes in Firo are incentivized nodes that host Firo's infrastructure and provide additional services such as 51% mining attack protection via LLMQ chain locks and instant sends
Neoxa Node – Neoxa will use masternodes to create its own P2P blockchain streaming service. Creating a revenue stream for creators and members running masternodes.
Equilibria Node – Equilibria is an open-source project focused on creating a private and decentralized oracle solution for a multitude of use cases. We are prepared for two initial use cases – digital asset price tracking and distributed match results for esports events. Equilibria Oracle Nodes are community-run nodes that monitor data and relay it back to the blockchain. These nodes are economically bound to the network by staking XEQ to disincentivize dishonest nodes.
---


Please see masternodes.online for full list of master nodes available.

If you are interested in the node not on the list please reach out to us so we can verify compatibility.
Disclaimer:

By purchasing any item from BMO you confirm you have the knowledge and understanding to operate the equipment as well as assume all risks and complications associated from operating or maintaining this device and indemnify the seller from any damage caused from any use or misuse. If you cannot agree or unsure of how to operate or maintain a system you are instructed to not purchase and/or win this auction listing. By bidding/buying you accept the terms and no returns policy.
Warranty related issues are the only exception. BMO will assist with any RMA related issues with the vendor/distributor.
BMO offers support and technical assistance – Please reach out to us with any issues and we will be more than happy to assist!